Prices subject to seasonality – FROM R1900 – per night
⊕ Max Occupancy: 6     ⊕  3 Bedrooms:  1 Queen, 1 Double, 2 Single Beds    ⊕  2.5 Bathrooms
⊕  Private Enclosed Terrace with Barbecue   ⊕ Cable TV  ⊕ Internet
FACILITIES
Known as the Jewel of the West Coast, Langebaan enjoys fabulous sunshine and boasts azure waters and unsurpassed natural beauty.  This three-bedroom home features an open plan living area making it ideal for a family to spend holiday time together, yet have sufficient privacy.  An enclosed balcony with built-in barbecue makes for great entertaining.
Fully equipped with all the kitchen amenities you may require, a washer, cable TV and internet, this home ensures a stress-free and convenient getaway.  Located near the beach and West Coast National Park, the area is a nature-lover and outdoor enthusiasts paradise.  The home is a gem and suitable for families of any age.
LANGEBAAN – NEARBY ACTIVITIES
Langebaan is located on the West Coast of the Western Cape with idyllic white sand beaches surrounding the clear waters of the Langebaan Lagoon.  The mild climate and protected waters of the lagoon make it the perfect location for many water sports, including sailing, kayaking, kite-surfing, and fishing.  There are also plenty of opportunities for kite-surfing lessons as well as water-skiing and windsurfing lessons.
As a wetland the tidal mud flats of the lagoon host many local bird species and also attract migratory birds every year where thousands of seabirds roost on sheltered islands.  Kraalbaai, a secluded white sandy beach and magnificent picnic area within the nearby nature reserve boasts crystal clear turquoise waters – a breath-taking sight not be missed.
Langebaan town borders onto the scenic West Coast National Park where you can enjoy many activities such as game viewing, cycling, and hiking.
Close to the town, is the West Coast Fossil Park – the only fossil park in South Africa. Visitors can hunt for their own fossils, bike, hike and enjoy horse riding through the park.
Other activities to make your stay in Langebaan memorable include leisurely yacht cruise on a 39ft catamaran, a thrilling rubberduck ride, fishing charter adventure or wetbike.
Nightly entertainment with casino, bars and restaurants is not far off at the Club Mykonos Casino and Resort.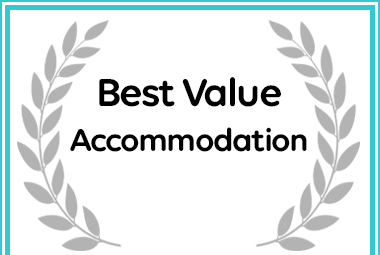 ---
Interested in booking this property?  Fill in the form below and we'll get back to you.